Vinyl floors are not only durable, stylish and simple to install, they're also easy to clean and maintain, making your life easy and your home hygienic.
Household cleanliness is receiving more attention now that people are working and studying from home in increasing numbers. Infections are often transmitted by hands or touch, which is why floors are unlikely to be a source of germs, particularly when cleaned and maintained in line with our recommendations for vinyl flooring. Mild detergents will remove dirt from both luxury vinyl tiles and vinyl rolls as part of a simple, gentle cleaning process to keep your floors more hygienic and at their best.
At Tarkett, all our vinyl flooring is coated with special surface treatment, making it even more resistant to scratches or stains and even easier to clean and maintain. The special PUR surface treatment that we apply to our vinyl floors means they're even better at resisting the scratches and stains of everyday life, which in turn makes floorcare easier still.
Over time, joints or gaps in a floor covering inevitably collect dirt which may harbour bacteries. Our ICONIK vinyl rolls, when installed without seams, are easy to clean to remove dust and dirt. Similarly, our Luxury Vinyl Tiles available in longer planks mean fewer joints and less space for grime to gather. And the vinyl tiles and planks, with their tight click locking system form a smooth, continuous surface that helps limit a build-up of dirt where bacteria can hide and multiply.
Helping keep you safe at home is part of Tarkett Human-Conscious Design™, our commitment to stand with present and future generations by creating flooring that's not only stylish, durable and great value but also good for people and the planet.
How to clean vinyl flooring
Cleaning vinyl floors requires a straightforward cleaning routine. Wiping or vacuuming is sufficient for cleaning your vinyl floor on a daily basis. Removing dust with a broom or vacuum cleaner avoids the build-up of dust and dirt and makes it easier to maintain your floors.
Every week, or more often if necessary, it's enough to wipe the floor with a damp mop or a cloth moistened with warm water and a neutral detergent. This helps to remove dirt and keep the floor in top condition. Keep in mind that you don't need a large amount of water to clean your floor.
How to clean up stains on your vinyl floor
Cleaning tougher scuffs and stains from your vinyl flooring is also relatively simple. Treat stains immediately, for example, by spot cleaning with a nylon pad and neutral detergent. Clean from the outside of the stain towards its centre, then rinse and wipe with fresh water. Here are some tips for cleaning different types of stains: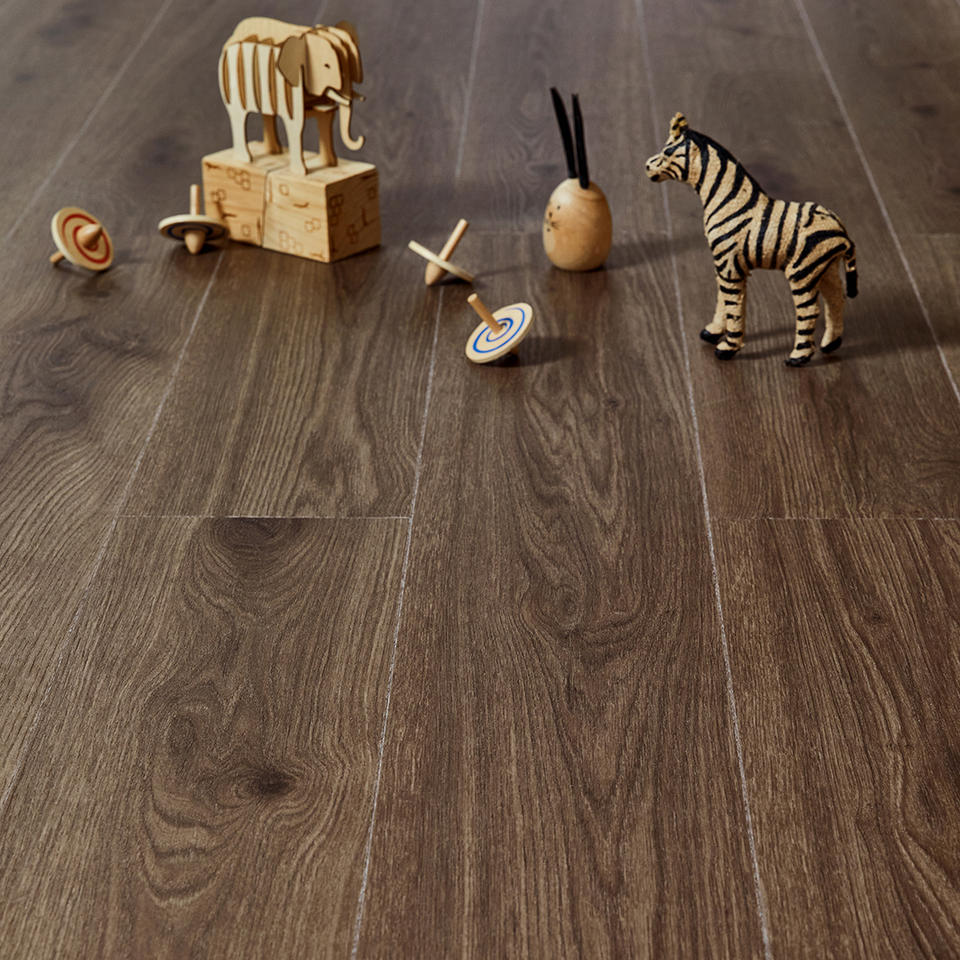 • Oil, vinegar or lemon stains should be removed right away as they may cause discolouration on the surface of your vinyl flooring. You can use a mixture of warm water and a neutral detergent to remove these stains.
• Ink, tomato or blood stains can be removed by putting very diluted alcohol directly on the stain for a few minutes without scrubbing, then rinse off with water
• Pen and marker stains are easily cleaned by rubbing with a little white spirit on a cloth and rinsing well with water
• Rust should be cleaned with an anti-rust sponge and rinsed off with water
Reference: https://home.tarkett.com/en_EU/node/what-is-vinyl-flooring-and-how-is-it-made-8511